Enjoy your new toys but don't forget to look behind your back occasionally.
Hope you are having fun today and you got all the things you wanted for Christmas.
If no, after Christmas sales can be loads of fun.
Also, if you are looking for something naughty after a day of being nice.
Let me suggest my historical story "Hot Prairie Nights.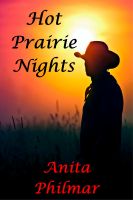 Overview
It's a hard life living on the western plains. Elizabeth Murphy knows she lives it every day.
Then just like some medieval knight in shining armor, a stranger arrives at her door. He claims to be a friend, who is down on his luck and looking for work.
Just looking at him sets her body on fire, and with them sharing a small log cabin, the nights are bound to heat up.
Download free from amazon or from B&N
http://www.amazon.com/Hot-Prairie-Nights-ebook/dp/B00AA4A70E/ref=sr_1_4?s=books&ie=UTF8&qid=1375399969&sr=1-4
http://www.barnesandnoble.com/w/hot-prairie-nights-anita-philmar/1114041949?ean=2940045109468
Have a great day,
Anita
www.anitaphilmar.com