All hot books that set the pages on fire.
Did you know I have over 17 books?
Read long excerpts of all my books by
Visit my website
http://www.anitaphilmar.com/bookpg.html
And click on the book for a length excerpt.
This is a great way to find which one you might enjoy.
Or download my free read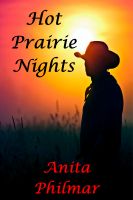 Blurb
It's a hard life living on the western plains. Elizabeth Murphy knows she lives it every day.
Then just like some medieval knight in shining armor, a stranger arrives at her door. He claims to be a friend, who is down on his luck and looking for work.
Just looking at him sets her body on fire, and with them sharing a small log cabin, the nights are bound to heat up. Can she resist the chance to take a ride with the cowboy? Or should she trust him at all?
After all, he thinks wearing a shirt is an optional item and he knows way too many facts about her dead gun slinging husband?
Anita
www.anitaphilmar.com