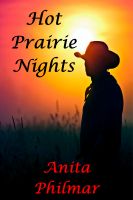 Blurb
It's a hard life living on the western plains. Elizabeth Murphy knows she lives it every day.
Then just like some medieval knight in shining armor, a stranger arrives at her door. He claims to be a friend, who is down on his luck and looking for work.
Just looking at him sets her body on fire, and with them sharing a small log cabin, the nights are bound to heat up. Can she resist the chance to take a ride with the cowboy? Or should she trust him at all?
After all, he thinks wearing a shirt is an optional item and he knows way too many facts about her dead gun slinging husband?
Also look in December 2012 for my next release Naked Rebel
Blurb for Naked Rebel
A spy that prefers to work alone, Nick Royster's assignment is turned upside down when his superiors sends him a personal companion. Not appreciating the need to watch someone else's back, he attends a dinner of Salsar's inner group. Only to learn, he has to sacrifice Rane to get the information he needs to end the war.
Rane knows the important of winning. Her family slaughtered by Salsar, this is her homeland and she plans to do whatever it takes to win her peoples' freedom.
With everything on the line, can these two have any future together or does love and war equal heartache?
Anita
www.anitaphilmar.com